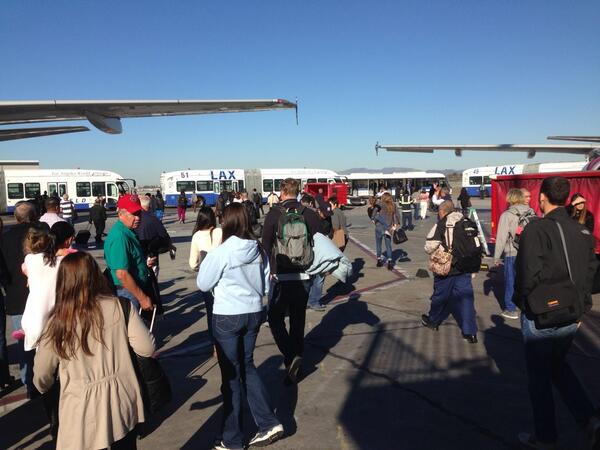 People been ushered out of the airport.
A gunman opened fire at LAX, injuring several people and prompting an evacuation at the airport,
ABC News
reports. Few details were immediately released, but CBS reports that there were evacuations at Terminals 2 and 3, as well as multiple injuries. A suspect with a high-powered rifle was shot and secured by cops at about 9:30 a.m. local time, authorities told CBS. It's unclear how the alleged gunman got through security.
The TSA confirmed that one of its employees was shot. "After the initial burst of gunfire and hiding, people started jumping over one another, jumping off chairs, pushing each other," Fox Sports reporter Bill Reiter said on Twitter. "Chaos & fear." Live aerial footage of the scene shows hundreds of evacuated passengers crowded in and around the terminal. Emergency crews appear to be working with patients on stretchers, and police armed with weapons swarmed the area. "I heard popping and everybody dropped to the ground," evacuated passenger Robert Perez told CBS. All flights have been grounded.
ABC/CBS News.