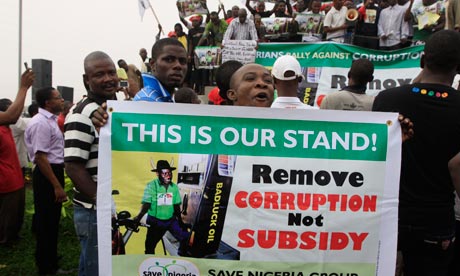 The Senate on Tuesday lamented that officials of the Nigerian National Petroleum Corporation failed to honour its invitation to give account of how they managed the N32.00 removed as subsidy on each of the litre of petrol sold in the country between January 2012 and September 2013. Senator Kabiru Mararaba, alleged that his colleagues observed that over N800bn ought to have accrued to the nation for the SURE – P projects if N32.00 was removed from each of the 25 billion litres of fuel sold in 21 months.
He said, "The committee had earlier written the NNPC to ascertain the quantity of fuel sold from when the Subsidy programme started till date. NNPC gave us the quantity sold from January 2012 and September 2013, covering 21 months. "If you add everything together, it will amount to about 25 billion litres and if you multiply 25 billion litre by N32.00, you get about N800bn. What SURE – P coordinators told us, when they appeared before us, was that they had so far collected about N300bn since the subsidy regime started. "The SURE – P team led by Mr. Christopher Kolade, said they were receiving N15bn flat rate every month. If you multiply 21 months by N15bn, it will be about N350bn. What we are even asking is what happened to the over N500bn difference. That is what we ask the NNPC to come and tell us.
They told us that the subsidy removed would be used to develop the Country now it cant be accounted for in just one year. Am in shock because this is daylight robbery. #sad.
Punch Nig.